Alignment Simple Solutions Awarded Outstanding Achievement in Innovative Manufacturing 2018 EDPA Innovation Awards
In a true David verses Goliath moment, Alignment Simple Solutions, manufacturer of the QuickTrick portable wheel alignment and accessory product lines, was named the recipient of Outstanding Achievement in Innovative Manufacturing for the 2018 EDPA Innovation Awards over fellow finalist Airbus Americas, Inc.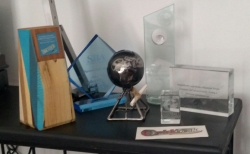 Pelham, AL, July 17, 2018 –(PR.com)– The Economic Development Partnership of Alabama's 2018 "imerge" event awarded funds to winners of an Alabama Launchpad startup pitch competition and honored industry leaders with EDPA's annual Innovation Awards.
Attendees also networked over food and drink as EDPA transformed the covered parking area of its office on First Avenue South into a pop-up performance venue.
Alignment Simple Solutions products have grown from one solution for weekend racers and DIYers into a full line of solutions from all automotive industry from passenger vehicles to fleet and military. Having sold in over 105 countries to date, it is well known that this Alabama start up is here to stay and continuing to develop products to fill the needs of the automotive industry.
"We are grateful for all of the support we have received from the State of Alabama, the EDPA, Alabama International Trade Council, SBDA, PTAC and so many others," stated Gary Gann, inventor and patent holder of QuickTrick products.
In early 2018, Alignment Simple Solutions was awarded their first GSA MAS award contract to supply Military and Government agencies with the various QuickTrick product solutions.
"The recognition and partnerships we have gained along the way have been invaluable to our growth and strategy for the future. With industry asking us for solutions, we are able to innovate as needed and stick with the successes for our customers. We have even manufactured a custom system for Fighter jets tire alignment. The sky is the limit," Tess Winningham, CEO and co-founder added.
Alignment Simple Solutions is the recipient of numerous awards dating back to 2012 and the Governor's Excellence Award. Since then the small manufacturer has graduated from the entrepreneurial incubator Innovation Depot, been awarded funds from Alabama Launchpad, received a Global Media Award, featured in Global Trade Magazine and numerous other awards and nominations.
About Alignment Simple Solutions, LLC
Parent company Alignment Simple Solutions, a WOSB, manufactures QuickTrick™ Products; US made portable and compact alignment measuring systems for fleet & consumer vehicles. Alignment Simple Solutions is committed to manufacturing quality products, providing jobs in the US and giving back to the community at large. The company is a Graduate of the 2015 Class of Emerging Leaders Course (SBA), recipient of the SEMA New Products Global Media Award (2014), ATN Lead certificate graduate (2013), Alabama Launchpad Award (2014) awardee and the Governor's Excellence Award (2012). Patent Issued: #9435627
For more information, visit www.alignmentsimplesolutions.com and www.quicktrickalignment.com
Contact Information
Alignment Simple Solutions
Aileen Gann
205-475-2419
Contact
alignmentsimplesolutions.com
(Visited 1 times, 1 visits today)