Alignment Simple Solutions Debuts New Line for 2019 Portable Alignment.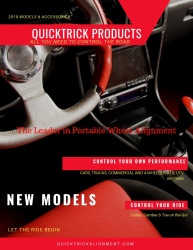 Pelham, AL, December 10, 2018 –(PR.com)– With a wealth of innovations, the all-new QuickTrick 4th Gen series is poised to set new benchmarks in its segment at an extremely competitive price. For example, the revolutionary new 4th Gen Alignment kit is the world's most intelligent in simplicity for measuring caster, camber & toe in all environment on any hard surface with .01% accuracy.
Developed by Alignment Simple Solutions and powered by American ingenuity. The complete kit takes another step forward with greater wheel fit and strengthened gauge reading accuracy while attached to the wheel. The lightweight design not only allows for better grip on inner and outer rim, but also has a fixed digital gauge system that sets a new standard for portable alignment needs.
The all-new 4th Gen lineup includes the 4th Gen system for DIY and Home use, with an MSRP starting at $289.95, the 4th Gen Slider systems, for the grassroots racer, automotive shop and customizer starting at $365.95, and the 4th Gen total packages for 13" and up wheels starting at $445.99.
The new 4th Gen Slider alignment systems come with exciting new features including aluminum frames, dual-digital gauges and hands-free measurement as well as the convenience of an all in one carry case.
Newly optional features such as the pick 3 systems allow for customization and additional accessories such as turnplates and steering wheel holders.
The new 4th Gen portable wheel alignment systems will be launched January 1st, 2019 with a variety options and are available for pre-purchase, at a discount, right now.
Fleet, Military and Off-road enthusiasts can still rely on the QuickTrick models for Heavy Duty fleet maintenance and Off-road Jeeps, RV's, Buses and more. QuickTrick will also launch the ATV/UTV Portable alignment systems in January of 2019.
The 2019 4th Gen and 4th Gen Sliders will be available in the U.S. starting in January of 2019, followed by the ATV/UTV Alignment models by the end of January 2019.
Additional information is available on the website: www.quicktrickalignment.com/
Contact Information
Alignment Simple Solutions
Tess Gann
205-475-2419
Contact
quicktrickalignment.com
Attached Files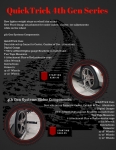 New 4th Gen Series of Portable Wheel Alignment products from QuickTrick
(Visited 3 times, 1 visits today)